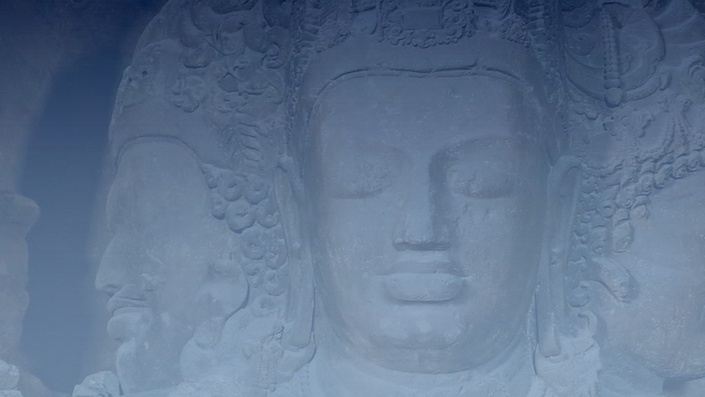 Yamas and Niyamas
The Science of Spiritual Relationships and Personal Empowerment
A comprehensive course for yoga teachers and serious practitioners
Learn how the yamas and niyamas form the foundation of a yogic lifestyle that's both practical in its approach to life in the modern world and grounded in the timeless philosophy of transcendental knowledge.


"I love, love, love this course. In just a few hours, Hari distills some very challenging concepts into comprehensible ideas, leaves the student with practical takeaways, and inspires a desire to dig even deeper."
- Kerry Contini, Yoga Enthusiast

"Hari's course is a wonderful look at social justice through the lens of yoga philosophy! His creative use of metaphor and analogy make ancient wisdom accessible to contemporary minds while honoring the traditional context from which it originates!"
- Julie Mendez-de Leon, Yoga Teacher

"In all of my years studying yoga, I've finally found a course that brings the yamas and niyamas to life, taking them beyond short definitions and soundbites and exploring their relationship to social action and spiritual activism. The course inspires me to go deeper, and now I have the tools and motivation to do so!"
- Stanley Currier, RYT 500 Yoga Teacher
I created this course because most yoga teachers only get a cursory introduction to the yamas and niyamas in yoga teacher training programs and much of what's available for serious practitioners is either heavily skewed toward an academic rather than a practical study, interpreted through a lens of modern psychology, or otherwise removed from the context of yoga's original teachings.
As a result, many yoga teachers and enthusiasts are unaware that the enduring relevance of the yamas and niyamas to contemporary social action and personal spiritual growth is found in the original context of traditional yoga philosophy.
Do any of these sound like you?
"I know that yoga is supposed to support progressive social activism but I don't really see the connection."
"I've heard modern interpretations of the yamas and niyamas but not much about how a traditional understanding makes sense for life in the modern world."
"I know what the yamas and niyamas are but I don't really understand their purpose so I feel like an imposter when I try to teach them."
"I heard about the yamas and niyamas in my YTT but we didn't spend much time on them."
"I feel confused about how to practice these teachings in a way that's both true to the tradition and true to who I am."
In this course, I'm going to share insights and and exercises that will make it easier for you to understand the original intentions of these ancient teachings, see their relevance to life in the modern world, and share these universal principles of engaged spiritual life with students and friends.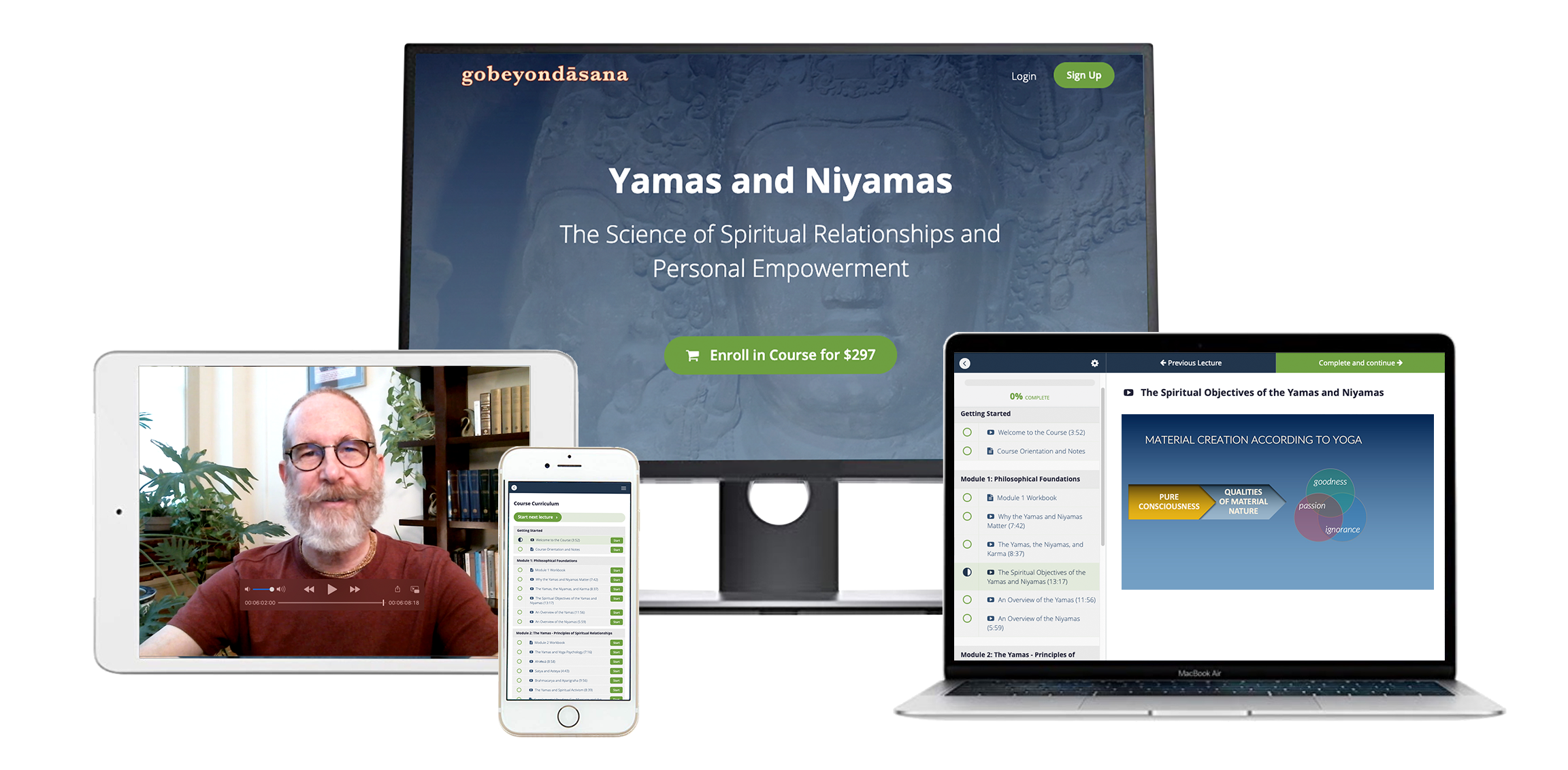 Here's what you'll learn:
What the yamas and niyamas really are, why they matter, and how to integrate them into your life.
What the yamas and niyamas really ask of us -- and what we gain by building a lifestyle based on them.
The philosophical context for the yamas and niyamas that unlocks their true transformational potential.
How the yamas and niyamas offer a complete framework for a program of personal growth.
The necessity and power of spiritual activism based on the moral philosophy of yoga.
Which of the yamas and niyamas is actually the most important one (it's not the one you probably think it is), how to know it's the most important one, and why it's the most important one
Course Curriculum
Getting Started
Available in days
days after you enroll
Module 1: Philosophical Foundations
Available in days
days after you enroll
Module 2: The Yamas - Principles of Spiritual Relationships
Available in days
days after you enroll
COURSE MATERIALS INCLUDE A COMPLETE SET OF VIDEOS AND WORKBOOKS FOR EACH MODULE.

"An artfully crafted, easy-to-follow, and highly impactful course on the foundational principles of yoga. The symbiotic support Hari draws from the Bhagavad-gita serve as an added bonus that elevates the experience. Highly recommended!
- Cory Bryant, Yoga Teacher and Studio Owner

"Hari-kirtana connects yoga philosophy to ethics and self-care in a way that's sophisticated but digestible and shows us what yoga philosophy really has to say about spiritual activism. I found this course to be grounding, affirming, and encouraging."
- Dr. Monea Tamara - Racial Justice Educator and Yoga Teacher

"Hari-kirtana is an exceptional presenter. Though I've been exposed to these concepts many times through my readings and from other teachers, Hari brought new depth and light to my understanding of these ancient teachings."
- Machelle Lee, Yoga Teacher and Studio Owner
Frequently Asked Questions
When does the course start and finish?
You'll have complete access to the entire course from the moment you enroll. It's a completely self-paced course so you decide when you start and when you finish.
How long do I have access to the course?
The course will be open for at least 4 years, from November 2020 to December 31, 2024. During that time, you'll have unlimited access to the course across any and all devices you own.
What if I am unhappy with the course?
I would never want you to be unhappy! If you're unsatisfied with your purchase, contact me within the first 30 days of your enrollment and I'll give you a full refund.
What if I have a question about the course material?
Your Instructor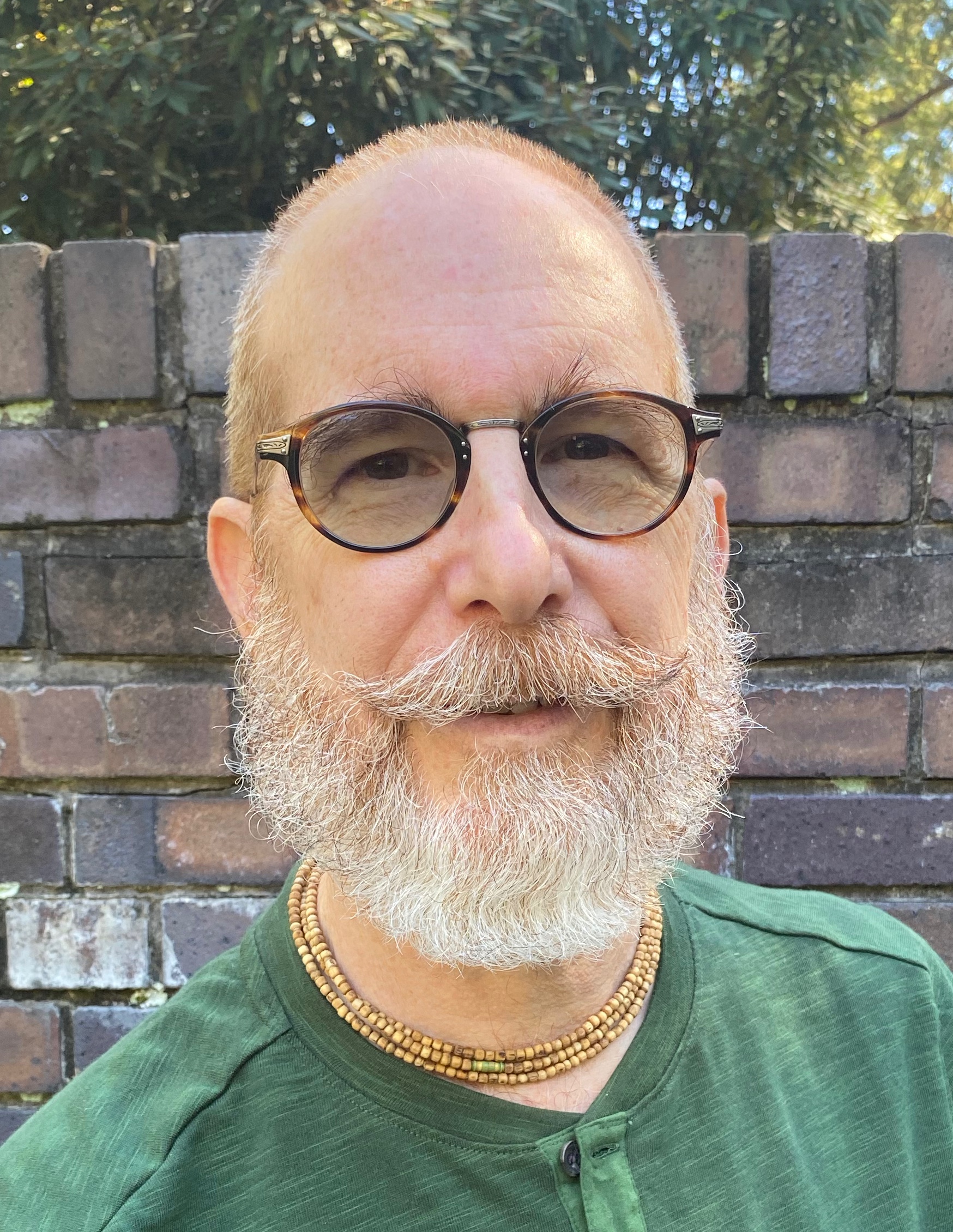 Hari-kirtana das is an E-RYT 500 yoga teacher and the author of 'In Search of the Highest Truth: Adventures in Yoga Philosophy.' He's lived in devotional yoga ashrams and intentional spiritual communities, worked for Fortune 500 companies and Silicon Valley start-ups, and brings a wide range of spiritual knowledge and life experience to his classes, workshops, and courses.
Hari-kirtana been practicing yoga for almost 50 years and has been teaching in the contemporary yoga community since 2007. He's on the faculty of numerous Yoga Teacher Training programs, leads his own Advanced YTT program, is a frequent contributor to forums and magazines about yoga philosophy. His talent for making complex ideas easy to understand, along with his ability to connect yoga's ancient wisdom to life in the modern world, have made Hari a sought-after speaker.
You can learn more about Hari-kirtana by visiting his website: https://hari-kirtana.com/.
If you want to
gain clarity about what the ethics and observances of yoga are really about and why they matter

learn how your yoga practice can help you make a more meaningful contribution to making the world a better place, and

gain a deeper experience of self-care in the yoga tradition,
then this course is for you.